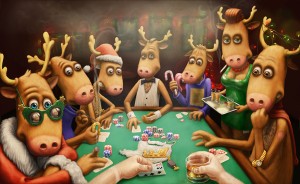 COMPETITION NOW CLOSED
The random draw has just been completed and the winners of the Oneouter.com xmas giveaway are the following people. Thanks again to our official training & strategy partners PokerXfactor.com for the great prizes……Alvin Kaufmann won the star prize of 1 years membership at PokerXfactor.com Patricia Chavira and Mark Mccann won copies of "The Mental Game of Poker" by Jared Tendler & Barry Carter. The following 5 people won a free 1 month membership with PokerXfactor.com. Eric Rollins, Billy Prentice, Kevin Schmid, Gary Smith and Jan Polzer
Thanks to everyone who entered, and if you missed out on a prize, you still get to listen to my great podcasts for free. So as they say, everyone is a winner 😉 Cheers & Good Luck. Barry
It is my great pleasure to be teaming up with the guys over at PokerXfactor.com again for another Christmas giveaway.
The PokerXFactor Training Center over at PokerXfactor.com is the most advanced poker instruction facility available online today with hundreds of poker videos, the PXF Hand History Replayer, Poker Blogs, and in-depth articles. PokerXFactor subscribers also have access to the PXF community through our interactive chat sessions, discussion forums, and online Home Games.
Oneouter.com listeners can already get themselves a massive $70 discount from membership simply by using the code ONEOUTER70
This offer has been on ever since PokerXfactor.com became the Official Strategy and Training partner of Oneouter.com and will continue to be on offer for all Oneouter.com listeners.
However, as a token of our appreciation and the fact it's coming up for christmas!
We have some amazing prizes to giveaway.
Star Prize – 1 years membership of PokerXfactor.com
+
5 prizes of 1 month membership
+
Plus there are several poker books up for grabs, from Mental Game of Poker, to Kill Everyone.
SO HOW DO YOU ENTER?
This is the simplest competition ever, all you have do to is the following.
Click "like" on the Oneouter.com facebook page which is here (http://wwww.oneouter.com/facebook)
Also follow @oneouterdotcom on twitter and tweet this blog and mention @oneouterdotcom in the tweet.
That's it!!
If you only do one or the other, you will still be entered into the draw. But if you do both, you will essentially have two tickets!.
A random draw will then be held in the first week of January and the winners will be announce 24hrs later.
So get liking the facebook page and get tweeting, grab yourself one of these amazing prizes.
Have a great xmas and look out for my next podcast, which will be a catch up with previous guest Alex "Assassinato" Fitzgerald.
MERRY CHRISTMAS
Cheers
Barry
 You can download my podcast and all of my previous interviews with pros such as Phil Hellmuth, Barry Greenstein, Jungleman12 and more.
Subscribe for FREE to my podcast through iTunes, or download from the podcast section on Oneouter.com
Just click the iTunes logo and subscribe 100% FREE