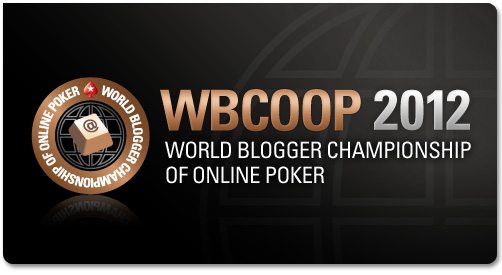 VOTE FOR ME HERE
The worlds largest poker site are currently running the World Blogger Championship of Online Poker (WBCOOP2012) for short!
There are 30 tournaments running from February 23-March 4, culminating with the $5,000 Main Event. In addition, there are also bonus prizes on offer for Best Blogger, Best Live Tweeter, and for players that finish in the highest spots on the WBCOOP Leader Board!
Just for entering, you get 10 free tickets to 10 different WBCOOP tournaments. Plus there are lots of leader board prizes and SCOOP tickets up for grabs.
Full details of the WBCOOP2012 and how you can enter yourself can be found here.
http://www.pokerstars.co.uk/tournaments/wbcoop/
(no girlfriends were harmed in the making of this blog, it's for entertainment purposes only!)
So what would I do if I won the $5,000 best blogger prize?
Well….I am traveling to Las Vegas in June for the WSOP2012.
BUT! with this prize of $5,000, I could actually justify taking my girlfriend with me! As opposed to leaving her at home in Scotland!
$5,000 would be enough for a flight and leave her plenty of cash to go shopping….. while I play poker all day and night!
I would say…

"Darling, you can now come to Vegas with me (well, for one of the weeks anyway!!)…..oh and this trip was brought to you courtesy of Pokerstars, The Worlds Largest Poker Site" 🙂

For a few years now she has had to put up with the other love in my life…….poker!
As a result, from time to time she has had to endure the following statements………
"Baby, seriously, if I win this, I'll take you on holiday"
"YEAH, I won, but I was thinking…can we leave the holiday just now as I want to build on this!!"
"Shh, I need to concentrate"
"COME ON! every time you come in the room, I lose a pot"
"I'm serious, You must be cursed"
"Can you get me a drink please?, I can't move as my break is not until five to the hour!"
"What time are you going to bed?"
"Yes, I just won a massive pot, you must be my lucky charm now baby"
"NOPE, FALSE ALARM HONEY, YOU ARE STILL A JINX"
"Go back out the room again, I was luckier"
"Come on, please, don't talk when I'm playing"
"Don't touch me when I'm playing"
"I've just bubbled the final table, the last thing I want is a cuddle"
"Why does this always happen to me?"
"I was definitely luckier when I was single!"
"How can I go for a walk in the park? IT'S A SUNDAY!!"
On a serious note, she has put up with both downswings and mood swings! (Although in the last year I am a reformed character, and none of the above happens anymore! Honestly!)
She works hard and motivates me to work hard. She has been a great help, and a great support.
I've managed to combine playing poker, while building the Oneouter.com podcast where I have now interviewed some of the top poker players in the world. Including Pokerstars very own Barry Greenstein.
Life would definitely be more difficult without her support.
So there you are Pokerstars, that is my pitch for the best blogger prize of $5,000
I'm going straight for the heart strings, so don't do it for me!
DO IT FOR MY LONG SUFFERING GIRLFRIEND 🙂
Cheers
Barry Chalmers (Oneouter.com)
(no girlfriends were harmed in the making of this blog, it's for entertainment purposes only!)
VOTE FOR ME HERE