While I was in Las Vegas I managed to talk with a few of the pros I have had on the podcast.
I had a chat with Phil Hellmuth about the podcast I did with him (check it out here) he wished me good luck in an almost mystic all knowing tone. I would like to believe that he has cast some of his "white magic" in my direction and a million dollar pay day is just around the corner!
I also got the chance to speak with previous Oneouter.com podcast guests Brian Rast, Nick Abou Risk  and Jared Tendler. All of them are amazing guys, and like all guests, they have played a part in my continuing education as a poker player and a person (Check out my interviews with them here).
There was one other guest who I got the chance to speak to, Neil Channing.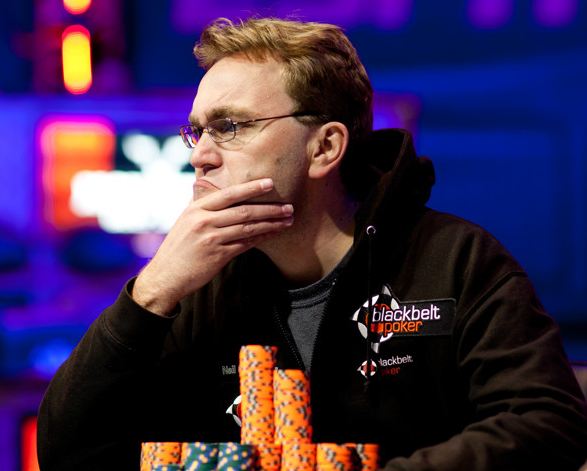 It just so happens that when I introduced myself to him in person for the first time, he was about to start his final table in event #43 $1500 No Limit Holdem.
I've played poker since 2007 and have been aware of Mr Channing since then.
My initial take from watching him on some TV games back then was he was quite boring to watch!
I think when you first get into poker you are looking for Tony G's, Luke Schwartz and theatrics like that….Then when you really start to get into it, you want more Barry Greenstein and Neil Channing! Maybe that's just me.
As I read various interviews with Channing, I began to realise he was far from boring and there were many similarities between his life and mine.
(Namely, we both bought and sold toys/collectibles from auctions at an early age, both studied economics,  both made a lot of money, both then blew all that money! rinse and repeat)
When I started Oneouter.com I really wanted to get Channing on the podcast. I knew he would talk for ages and share great stories and anecdotes.
He didn't disappoint and the podcast with Neil is by far my longest at 2hrs 47 minutes! (Get it here)
I actually listened to the podcast myself for the first time during my flight from New York to Vegas for this years WSOP.
When I finally met Neil in person for the first time. It just so happened that he was about to start a WSOP final table!
I had some thoughts like a real superstitious fish…….
"Wow this is so sick, first time I come to the WSOP, listen to the Channing podcast on the flight and he is away to win his first bracelet"
Of course I didn't say any of this to Neil!
As gamblers we all hate that jinxy shit!!
So I just said "Hello, I'm Barry from Scotland. I pestered you for a few months then phoned you at your home and we spoke for 2hrs 47mins for a podcast!"
Neil remembered and we spoke for a few minutes.
I decided railing a WSOP final table where he was about to win a bracelet would be a fun idea, so I cancelled my tournament plans for the night.
I mean, I had listened to the Channing podcast before I arrived. I'd spoken with him, he is a personal poker hero and he can play a bit….Just give him the bracelet already!!
Also James Mackey was at the final table (Mig.com online) and he knocked me out with two tables left in the Sunday Warmup a while ago! So when Channing knocked him out with a two outer on the river, this just had to be!!
If this wasn't all adding up to it being written in the stars, then there is no" justice" in poker!..
Well we all know that there is no "justice" in poker and Neil didn't win the bracelet.
I remember when it was over and Henry Lu won the bracelet.
Lu just ran over to his rail to celebrate and Channing just sat there staring at the table or some other inanimate object.
It was over, the stars didn't get the memo, and it was to be the second time Channing would finish in second place in a bracelet event.
But one more spooky thing happened (sheer coincidence if you don't remotely believe in that stuff!) but literally the next song that went on my iPod was "This Charming Man" by the Smiths!
Channing is a big Smiths fan and has walked out to "Please, Please, Please, Let me get what I want" on one of the TV cash games.
I think it's tremendous to see a true professional in every sense of the word, really, really care about a bracelet.
I know they give so many out each series now. But if you are in poker, there is still something historic, nostalgic and indeed romantic about winning a bracelet.
Neil has since said that while he is gutted not to have the bracelet, he is delighted to have the $400k+ for 2nd!
He even put it in the terms that is 10 years wages for most people.
I think a lot of  other "pros" would do well to emulate a little of this humble and charming Channing approach.
Instead of bitching about the pool temperature at the Wynn or how long they waited on sushi.
Mr Channing I salute you.
Subscribe for FREE through iTunes, or download from the podcast section on Oneouter.com
You can download this podcast and all of my previous interviews with pros such as Phil Hellmuth, Barry Greenstein, Jungleman12 and more.
Just click the iTunes logo and subscribe 100% FREE