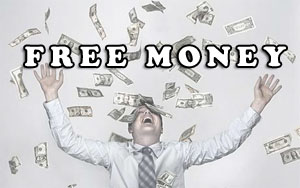 Freeroll
Noun  A tournament in which cash or prizes are offered but that has no entry fee; a promotional tournament with no entry fee.
We've all heard the stories of the poker players who start with nothing, play poker tournament freerolls, build a bankroll and move up to the high stakes!
Well you can start your own rags to riches adventure right here with ZERO money!
Below you will find a schedule that updates automatically to show you what freerolls are on what site throughout the day.
I have created a FREEROLLS section at the top right of the Oneouter.com homepage, just check there and you can see what free money is on offer whenever you choose to play!
All you need to do is click on the site name, set up an account and then play the tournament for free!
I will be adding more sites and more freerolls in the coming days and weeks, so bookmark the freeroll section at Oneouter.com and go win yourself some free money! Good Luck
FREEROLLS FOR YOU TO PLAY
NEW IMPROVED SCHEDULE OF FREEROLLS BOOKMARK THIS PAGE AND MAKE FREE MONEY!
[poker-freerolls]