I found this excellent TED talk titled "What can we learn from expert gamblers ?"
If you aren't yet  aware of TED talks, then I definitely advise having a look through them!
They are usually the perfect combination of fun and informative! You can find them on pretty much every subject! Check them out at http://www.ted.com
This one deals mainly with the concept of expected value (EV) and how it can be applied to many areas of life.
I first became really aware of the concept of EV while studying for economics degree. In some sense, I've really been aware of it all my life in the way I have approached risk in both gambling and buying and selling old toys and collectibles! But uni was the first place that gave the concept a name!
Personally I've always embraced risk and have had an intuitive and logical way in dealing with risk in my life. However, I think that the concept of EV should be introduced to kids in schools at a much earlier age. For the most part, you don't actually need to know in depth the the maths behind it.
Just an introduction to the way of thinking. Something as simple as the video below being shown to kids in high school would definitely help kids/young adults with some decision making……it would only help!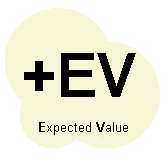 It is a great talk on how we should think about when dealing with risk.
The talk is around 15 mins long and is well worth a watch and listen!
You can download my podcast and all of my previous interviews with pros such as Phil Hellmuth, Barry Greenstein, Jungleman12 and more.
Subscribe for FREE to my podcast through iTunes, or download from the podcast section on Oneouter.com
Just click the iTunes logo and subscribe 100% FREE