Interview with 2011 WSOP $50k Players Championship winner,
Brian Rast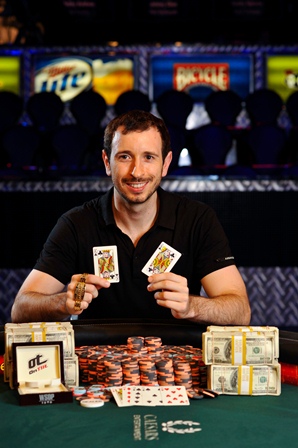 The WSOP 2011 seemed to revolve around three players.
The current leader in the 2011 Player of The Year race is  Ben Lamb. He bagged a bracelet and made the November 9.
Phil Hellmuth also had a phenomenal series with THREE 2nd place finishes.
Brian Rast was the eventual conqueror of Hellmuth when the two played heads up in the $50k Players Championship.
Brian Rast started the 2011 WSOP by bagging a bracelet and around $230k by taking down the $1500 Pot Limit Holdem event.
He then won arguably one of the toughest tournaments on the planet, the $50k entry Players Championship. 128 of the toughest players in the world (minus Mr Ivey unfortunately this year).
That was good for $1.7 million, the bracelet and the Chip Reese Memorial Trophy.
Brian kindly gave me an enormous amount of his time, this podcast runs for 1hr and 38mins! The longest one I've ever done!
BUT IT IS WELL WORTH LISTENING TO!
We discuss Brian's WSOP, he takes us through some hands, we also discuss a few hands and situations that many tournament players find themselves in.
Brian (and myself!) try to tackle the hypothetical question posed to players…..
First hand of the WSOP, the table goes all in to you in the big blind and you look down at two Aces…DO YOU CALL?
It's not as straight forward as you might think! This question just popped into my head during the conversation, and Brian used his excellent mind to think through it logically.
You can learn a ton from listening to Brian Rast…….I certainly did.
Thanks so much again Brian for your time.
You can stream the podcast by pressing play above,subscribe for FREE through iTunes, or download from podcast section on Oneouter.com

To get this podcast and download any of my interviews with poker pros such as Phil Hellmuth, Barry Greenstein, Jungleman12 and other great minds. Simply click the iTunes logo and subscribe, 100% free.

Podcast: Download