Vegas Observations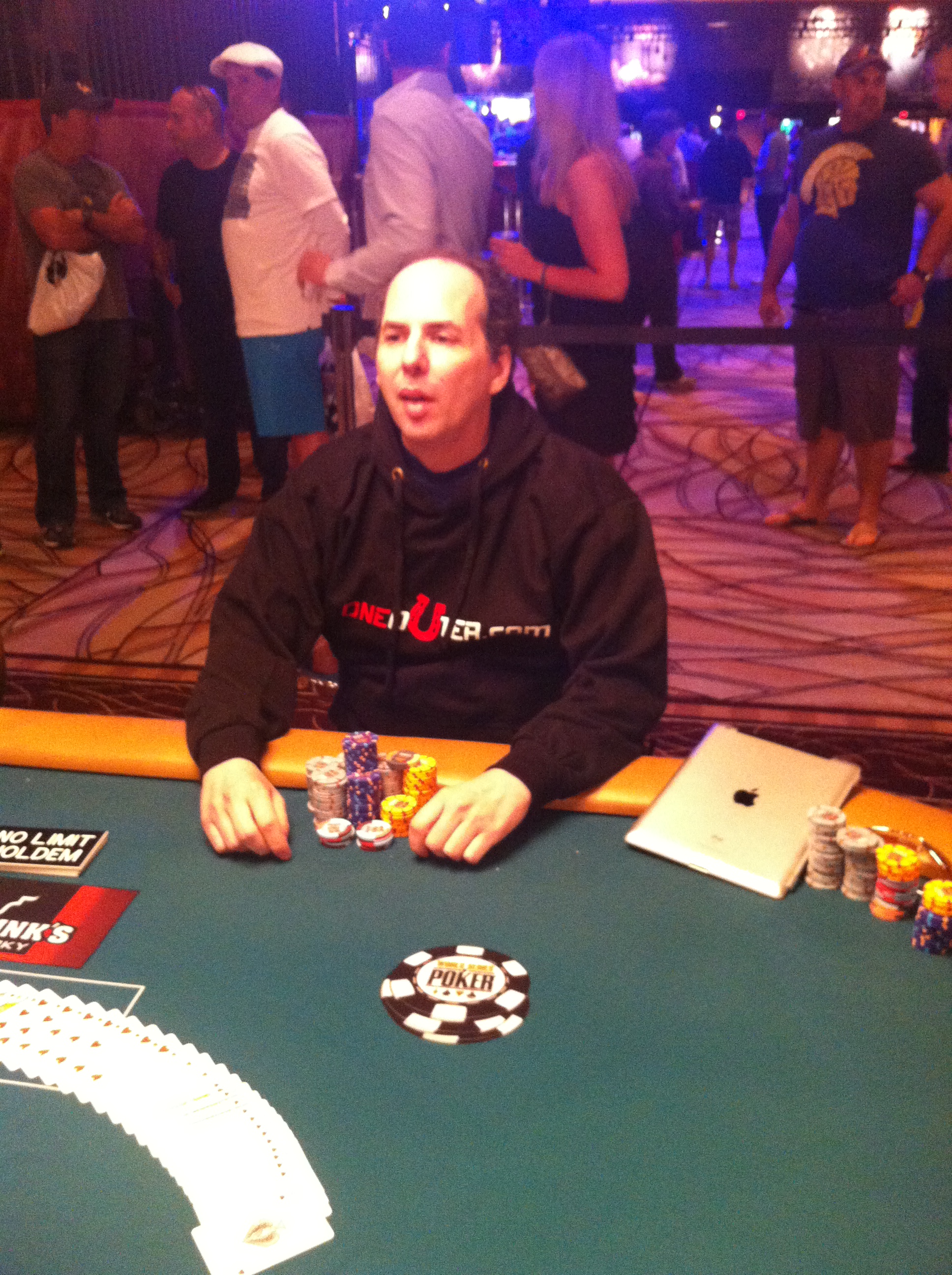 (Allen "Chainsaw" Kessler wearing a Oneouter.com hoodie in the $50k Players Championship.)
Thanks Allen!
Vegas was amazing! I was only there for two weeks but it felt like a month. Towards the end of the trip I kind of wanted to get home. Few days after I was  back home in Scotland…..I wanted to be back in Vegas!
I've been meaning to write a blog on the trip but I've been so busy playing poker that I've been putting it off!
As a results I've created this bullet point, rapid fire blog of my vegas trip! A sort of highlight reel!
Viva Las Vegas
On the first night I had my first taste of "comping" in true Vegas style! Harrah's where I was staying for the first 4 nights didn't have my room ready. So they put me in one of their biggest suites for free! The place was ridiculously big and as I was on my own, it felt even bigger!
I love the hospitality in Vegas, I appreciate great food and even better service (who doesn't?) I did my very own version of Man Vs Food and hit lots of nice restaurants. The choice is unparalleled, I tried the Rio Buffet and thought it was just ok. The Bellagio one though remains the best I've experienced.
Quadjacks
It was my second time in Vegas, but first time at the WSOP. Perhaps even more importantly, it was the first time I met Marco and Zac of Quadjacks.com
I sat down with Marco on three occasions. We basically had a big love in and a few great laughs.
Here are the three chats.
Rio Reality
As I say, it was my first time at the WSOP. We all see the glitz and the glam on the ESPN coverage.
However, I found the reality to be somewhat different and eye opening.
The sheer scale of the Rio setup hits you. Thousands of unwashed degenerates literally stink the halls and rooms out! There is a quote by Ricky Roma (played by Al Pacino) in the film Glengarry Glen Ross.
"All train compartments smell vaguely of shit. It gets so you don't mind it. That's the worst thing that I can confess."
Well substitute train compartments with "halls of the Rio" and that perfectly sums up my experience!
I also got to see the reality of a few of the top players WSOP experience.
I heard a few household name pros talking during the $50k players championship and the general public would not believe that % of themselves they are playing for. I heard one talk to another, he was playing for 9% of himself. This was a common theme and one that is lost in poker magazine headlines "X player wins $5million"
Selling pieces and swapping % is common at all stakes of poker and there is nothing wrong with it. But even I was a little intrigued with some of the deal and % talk amongst some of the "elite" pros.
But there is still a magic there amongst the herds of unwashed degenerates!
The smell of hope fights to be noticed above all other smells!
You see the final table all kitted out with the lights and spectator seating giving it that ESPN sense of occasion.
That is what we see as the reward for all the hours spent playing in air hangar sized abattoirs, and what most poker players dream of.
It's a degenerates dream, so in short, I LOVED IT!
Me being a Fan Boy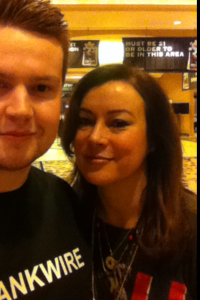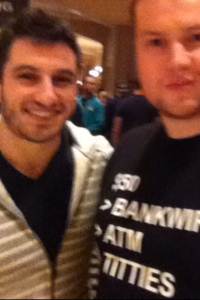 I got a chance to speak with the lovely Miss Jennifer Tilly. She was so friendly and there was a genuine niceness and warmth from her. I'm also a huge fan of Phil Laak (to cut a long story short, he wrote a money management article in Bluff that basically changed my life!) As a result I've been trying to get him on the podcast for ages. Through a combination of typing my number into Tilly's iPhone #sickbrag and Brian Rast doing me a favour and getting a shirt to him (like the one on me in picture) Laak has since emailed me to say he would love to come on and it's going to happen!
The other guy is of course Phil Galfond, not much more to say other than he is an absolute wizard and was a really friendly guy. I also spoke with Galfond about coming on the show and he took a card, hope it happens.
Work Ethic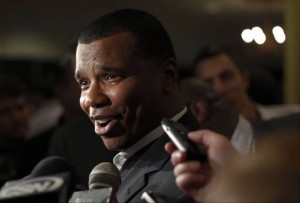 (Ivey at WSOP 2042??)
The biggest thing I will take away from the trip is motivation. I had the privilege of having a WSOP media pass, this gave me access beyond the rail! I got to walk around all the tables of events like the $50k championship and the One Drop $1million buy in. I got to take some really good pictures of some of the guys I've interviewed and watched on tv. What struck me more than anything, is the sheer work ethic of some of the pros.
I myself played 6 tournaments (some WSOP dailys) and some at Caesars Palace, I final tabled 3 getting two 3rds and a 6th.
Ivey did something towards the end of my stay that really kicked my ass and gave me some sort of epiphany. He was knocked out of the $50k championship quite late at night if I remember. Obviously Ivey is not short of a few dollars, but he didn't head home or to some bar to relax after his bust out. He literally walked straight through one of the fire exits, and reappeared through another fire exit and into another event (I think it was the $3k Limit).
There was just something about this work ethic, hunger/love for the game.
I played more in the next few days than I had played the entire trip, since returning home I've also really upped my volume online.
If it takes hard work for Ivey to do well, then the rest of us mortals better be prepared for that as well.
Cheers
Barry "gingertoys" Chalmers
You can download the Oneouter.com podcast and all of my previous interviews with pros such as Phil Hellmuth, Barry Greenstein, Jungleman12 and more.
Subscribe for FREE through iTunes, or download from the podcast section on Oneouter.com
Just click the iTunes logo and subscribe 100% FREE