Alexander "Assassinato" Fitzgerald.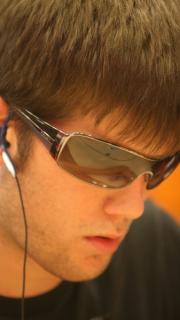 I've been a big fan of Alex as soon as I read one of his many excellent articles in Bluff Magazine (go and check your old copies now and see if there is an article by Alex…..I bet you it's good!!)
Alex is an excellent poker player (both online and in the live arena) He has cashed for over $2million in online tournaments and has a superb record in live events including EPT's and PCA events.
I discovered his blog which is still up at assassinatopoker.blogspot.com (Make the time to go and read this from the very start, it will give you much more insight that we could ever manage in an hour!)
Alex is also involved in a superb poker site with a difference.
The reason I say difference! Is that pokerheadrush.com is an excellent site that is filled with amazing poker content that really looks at big issues, and tackles everything from poker strategy to areas of mindset and personal development.
Alex discusses the current situation with U.S online poker, his start in poker, and lots of tips and information on any aspiring player.
Since the mini-FTOPS and SCOOP both start this Sunday, I asked Alex to give his tips on tackling these large online MTT's.
As expected, Alex did not disappoint! There is tons of content in this interview and you may want to stop and write stuff down and replay it!!
After all, he has cashed for around $2 million + in online tournaments alone, so his advice is worth listening to!
Thanks again Alex and I'm looking forward to my lesson with you 😉
As mentioned in the interview, Alex is available for coaching and he can be contacted at the following email address.
assassinatocoaching@gmail.com
Cheers
Barry (gingertoys)
Press play below to listen to the interview or Download for free from the podcast section.
 You can download this podcast and all of my previous interviews with pros such as Phil Hellmuth, Barry Greenstein, Jungleman12 and more.
Subscribe for FREE through iTunes, or download from the podcast section on Oneouter.com
Just click the iTunes logo and subscribe 100% FREE

Podcast: Download